Learn how to be a good skipper with these 5 tips from the best captains in the world. Want to be one of them?
There are many ways to become a captain. Some go to sailing school, some do so by sailing yachts for others, and some become skippers when they retire and learn by sailing the open seas.
However you get there, no two captains are the same. Each person has a different leadership style, way of managing the crew and dealing with problems that arise on board. But what traits should a good skipper have? Where should you stand out to become one of the best?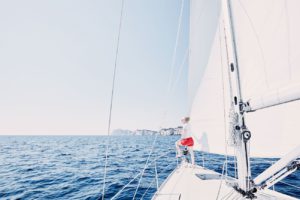 How to be the best skipper
Stay calm and, above all, never shout: a skipper that keeps a cool head in dangerous or difficult situations has already done a great deal. The crew will appreciate being led by a person who conveys confidence and calm. No one likes being yelled at; it's not the best way to work. So, take a deep breath… and sail away!
Communicate and do so clearly: Communication is key in management, above all if you're on board a boat. It is important that each crew member knows their role and what they should do at all times. In a crisis, you can't have misunderstandings due to poor communication. Take note!
Treat the crew with respect: on board a ship, the crew is your family. That's why it's important to respect them as you would your loved ones at home. Measure your words; be tactful and caring.
Be decisive and firm: a skipper who hesitates or is indecisive doesn't inspire trust, and this can lead to a bad vibe within the team. So be firm in your decisions.
Be organised and timely: a good skipper has to know what is needed well in advance and communicate this to the crew. Documents, food, clothes… Don't leave anything to chance!