After returning from a vacation filled with must-see events for all sailing fans, Eco-Sistems is back from its run through the leading trade fairs in the sport-boating sector with its batteries fully charged and major news.
The month of November has brought two new hires, the outcome of the international expansion plans of Eco-Sistems Watermakers and its focus on concentrating its strategy in the land transport sector. Oceane Pinault and Jordi Segura are the company's two new hires, and from now on they will be at the helm of two key departments in Eco-Sistems' expansion. Oceane Pinault, Export Sales Manager, will lead overseas contacts, while Jordi Segura, Cataluña & Baleares Sales Manager, will manage the Eco-Sistems' presence all over Catalonia and the Balearic Islands.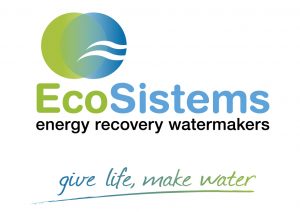 Furthermore, Eco-Sistems is continuing with its most adventurous activity with Dídac Costa in the Vendée Globe and Ben Hooper in his bid to cross the Atlantic. Dídac Costa has been in the open seas since Wednesday the 9th of November, while the English swimmer Ben Hooper, who dove into the water on Sunday the 13th, has already swum 59 kilometres.

Both athletes will be equipped with the company's star watermaker, the Splash-25, which is capable of producing 25 litres of drinking water per hour thanks to an energy recovery system fed by solar panels. Both athletes are aware of the importance of having a good watermaker and fully trust the reliability of the Splash-25. Any failure in this watermaker could mean aborting their feats, since the lack of drinking water on board is clear a case of force majeure.
You can track both feats day by day on our blog and also via Twitter and Facebook.